Chimneys
---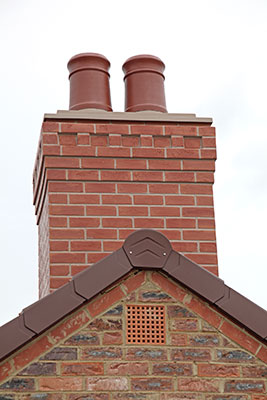 There is nothing better than spending a cold winter evening gathered around the fireplace with your loved ones. The fireplace provides a central point in family life during the long winter months. But without proper inspection and maintenance, your fireplace and chimney could be a terrible accident waiting to happen. At North East Home Improvement we understand the usefulness and necessity of the fireplace and chimney. Trust us to make sure your chimney is fully functional and safe for the season.
Many of us don't think much beyond a chimney's function to carry smoke out of the house. Seasonal freezes and thaws, use, and wear and tear can impede the structure of the chimney. An annual inspection is recommended to ensure the safety of the chimney and fireplace. Inspection assures the chimney structure is sound as well as ensuring it is free of obstructions and combustible deposits. Leave the inspection to us and sleep easier knowing your family is safe. We provide the customer service, expertise, and quality care you look for to help you keep your home safe and warm this winter. Don't push this seemingly unimportant task to the back burner. Contact us today for a quote and to learn more about the services we offer!
Full Rebuild/Roof Up Rebuild
Whether your whole chimney needs replacing or just the upper half, our team of masons will work with you to construct the chimney of your dreams.
Leak/Repair
Chimneys tend to be one of the main problem areas when it comes to water getting into the house. Over time mother nature beats down on the chimney with most of it's force focusing on the upper more exposed parts of the brick and cement. This creates crack lines in the cement between the bricks and in the winter water freezes between the cracks and pushes the bricks out creating bigger gaps for water to drip through. This results in water in your house and bricks falling off your chimney. This can be prevented by having minor brick repointing and cement work.
Chimney flashing
Over time chimney flashing can open up creating gaps for water to find its way into your home. A chimney leak can go unnoticed for some time creating vast amounts of water damage to the inside of your walls. We repair and replace all types of chimney flashing.
Copper, Aluminum, other
Chimney caps
We also make and install custom chimney caps to prevent rain and critters from coming down chimneys openings.
---
Want To contact A Specialist?
Call us Today!

(203) 321-6695

Get a Quote