Now that summer is officially here, it means you don't have to worry about cleaning your gutters again until the fall, right? Wrong. Even though we don't think of summer when we think of leaves falling and gutters backing up, there are plenty of reasons to keep your gutters maintained. See below for a few quick tips when it comes to cleaning your gutters this month: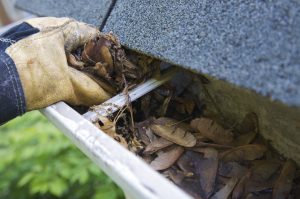 Don't have the right tool? You sure do! When it comes to cleaning out your gutters, there's lots of items you can use and chances are, they're already in your kitchen or your garage. Tongs, extension poles, trowels, and leaf blowers all work wonders.

We recommend wearing some safety gear. Gloves, a mask and goggles can help keep you protected while you're up on the ladder or on the roof.

Make sure your ladder is secure. It's not a bad idea to ask a friend or a neighbor to come out to hold the ladder while you're standing on it and be sure to use a stabilizer or stand-off to prevent any damage to your gutters.

Don't forget about the downspouts. Even if the gutters are clear, water can have trouble draining if the downspouts are clogged. Use a hose or auger to to clean out any built-up dirt and debris.
North East Home Improvement is the experienced, local choice for gutter installation, maintenance, and repair. We offer professional service at a cost that you won't shudder to hear. Give us a call today at (203) 321-6695 to speak with our experts or to schedule an appointment.